--- ---
---
Welcome to one of the world's most comprehensive ranges of air filtration/dust collection equipment for emission control, gas cleaning and product recovery.
---
---
Industrial Environmental Solutions
---
John Thompson provides the right solution for the job by combining these readily available resources with years of application experience.
To maximize your investment, our experts can help you design, select, manufacture, install, operate and maintain the optimum equipment for your needs.
---
Helping you comply with plant emission standards
How compliant are you? Under increasing pressure from civil society and government to reduce air pollution and regard sustainability as a business imperative, more and more industrial companies are taking action to get their house in order.
Those in the know turn to John Thompson. Assisting industry players to comply with plant emission standards and avoid penalties for exceedances and licence violations, John Thompson's air pollution control capabilities are unmatched worldwide.
---
Air quality control - The John Thompson Difference
Whether you require a single unit or a complete system, we're enthusiastic about meeting your needs – now and into the future. We back up our products with worldwide customer support.
---
---
Our engineering team will work closely with you to understand your needs. Our Total Quality Commitment is proof of our partnership philosophy. You'll experience it throughout the relationship – from the initial evaluation, system delivery and start-up, to after-sale follow-up and service.
---
Turnkey Air Quality Control Systems
Facing challenges with emission control, gas cleaning or dust collection/product recovery?
Our blend of experience, wide product range, proven technology and global resources makes us uniquely qualified to turn your toughest challenges into properly executed, commercially viable solutions.
---
Industrial Environmental Solutions
---
Click image to view pdf.
---
Utility Plant Environmental Solutions
---
Air Quality Interventions
John Thompson services, maintains, retrofits and erects electrostatic precipitators and fabric filter plants. Our technology partnership with Hamon Belgium enables us to offer our customers new electrostatic precipitators and flue gas desulphurisation plants.
Through our technology partner, Wahlco USA, we bring you a world of experience in clean air solutions. We have installed fabric filter plant on coal-fired utility boilers with capacities of 200MW and above.
---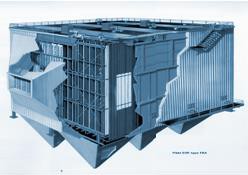 ---
Electrostatic precipitator
Design, manufacturing and construction of electrostatic precipitators
Complete refurbishment of electrostatic precipitators
Day-to-day and outage maintenance of electrostatic precipitators
Supply of electrostatic precipitator spares
Supply and installation of high-frequency power supplies
---
Hybrid ESP-Filter
This hybrid solution can help reduce particulate emissions to compliance. The fabric filter collects higher levels of particulate, and finer particulate, than any other ESP-filter of an equivalent footprint.
It combines an electrostatic precipitator (ESP) with a fabric filer unit with a suitable air to cloth ratio.
The fabric filter unit is located either downstream of the ESP or within the existing ESP. This is achieved by replacing one or more fields of collecting plates with the fabric filter modules.
---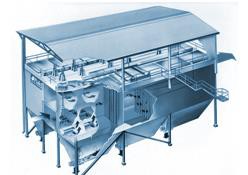 ---
Fabric Filter Plants
Design, manufacturing and construction of fabric filter plants
Retrofitting electrostatic precipitators with fabric filter units
Day to day and outage maintenance of fabric filter plants
Supply of filter bags and other spare parts
---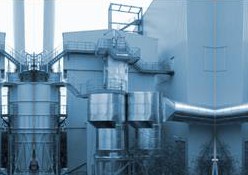 ---
Flue Gas Desulphurisation
Our agreement with Hamon enables us to design, manufacture and construct flue gas desulphurisation plants.
We provide the following range of FGD solutions:
dry sorbent direct injection system
semi-dry circulating dry scrubber
semi-dry systems with rotary atomisers or spray nozzles
wet systems with lime or limestone
wet seawater desulphurisation
Day-to-day and outage maintenance services on FGD plants.